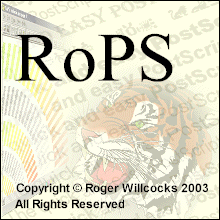 Welcome to rops.org
This web site is maintained by Centipede Productions as a central resource for the RoPSTM PostScriptTM Interpreter.

'RoPS' is a trademark of Centipede Productions. The name 'PostScript' is a registered trademark of Adobe Systems Incorporated.
What is RoPS?

The RoPS interpreter is a Microsoft Windows implementation of the PostScript programming language interpreter described in Adobe Systems' book, the 'PostScript language reference manual.' RoPS is optimized for viewing documents on screen, using TrueType fonts. It's ideal for reading PostScript documents downloaded from the Web. There are lots of good reasons for using RoPS!
Latest News

We are pleased to announce our new Professional RIP - CPL/Opus - featuring full Level 3 compatibility and dual resolution, large format output.

If you are interested in using RoPS in your own project, please contact us for licensing details.

RoPS version 6.5c has been released. This adds the facility to display a page's bounding box and fixes a couple of minor bugs: see readme.txt for more details.

Version 6.5 is PostScript level two compatible. The older (level one PostScript only) version is still available though, and it's now free! Both versions include enhanced handling for console text input and output, and are redmon compatible.
Online Registration

RoPS version 6.5 (level two compatible) is not free, but you can evaluate the program for 21 days without charge. A single user license for RoPS is US$49 (€43 / £30). Volume discounts are also available. You can register by credit card over a secure connection here. If you have any problems in registering the program, please see the list of frequently asked questions.
What people say about RoPS
The book Maximum Security recommends RoPS because "RoPS is smaller, easier to configure, and faster [than GhostScript.] In fact, it is probably one of the best shareware products I have ever seen; it is incredibly small for the job that it does and requires minimal memory resources. It was coded by Roger Willcocks, a software engineer in London, England."
Other PostScript Resources
Adobe Systems created the original PostScript language. Their web site contains the definitive reference manuals for the language.

The dmoz Open Directory Project has a fine collection of PostScript-related links.

The PostScript Processing Speed Test tests the speed of your printer. RoPS scores 60.6 i.e. it is sixty times faster than an Apple LaserWriter II NTX (when run on a 200MHz Pentium Pro creating pages for DeskJet 710C, 300dpi mono.)

GhostScript is a free (as in speech) full-blown level 3 PostScript interpreter, but it's a 5 Mbyte download. It also requires a separate viewer utility — another megabyte...

Quite Software produces PSAlter, a toolbox for editing PostScript files. Their site also has a number of helpful PostScript links and other resources.

---

Last modified 26 February 2006 18:41

This document is Copyright 1996–2006, Roger Willcocks, All Rights Reserved.
Roger Willcocks and Claire Neesham trading as Centipede Productions.